Device operator Console is a quick tool built to support Poly devices running UC Software. These devices include the Poly CCX, Trio, and VVX devices running a release of 5.9.x or later.
This tool leverages many of the open APIs in the UC Software to provide a remote operating solution for these devices.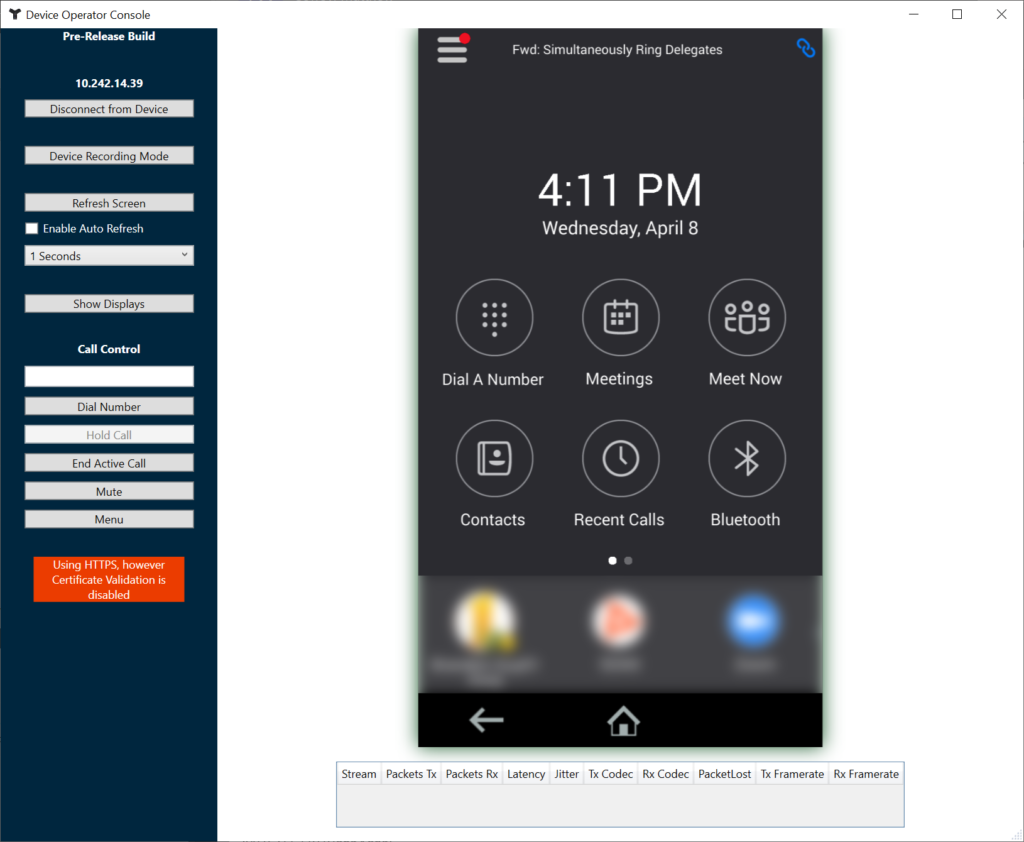 Download the most recent version
You can find a zip of the published software here:
Google Drive Share (Version 1.1.0.5)
---
Abbreviated Feature List
Remote Screen Viewing
Remote Device Operation
Call Control
Active Call Statistics
Modular Room View (For Trio V+ and Daisy-Chained Trios)

Normal Disclaimer
This Tool is provided free of charge with no implied warranty on behavior. The application does not collect nor send any data to any location other than the device you are connected to.
This application WILL enable the RestAPI of the device and WILL enable the screen capture functionality. Both of these interfaces will still require the administrator password of the device to access.
I've built the tool using Visual Studio and published using the ClickOnce Technology. Although the application does have the ability to auto update, this has not currently been implemented. You can read more about ClickOnce here on the Microsoft documentation portal.
Update: Depending on your system, ClickOnce may not be allowed to install by default, a fantastic write up on the ClickOnce behavior with Windows can be found on here: https://www.gonnalearn.com/your-administrator-has-blocked-this-application-because-it-potentially-poses-a-security-risk-to-your-computer/
Known Limitations
You must have enabled the Web Server functionality.

either http or https may be used

You cannot use the default password of '456'.
VisualPro devices cannot be displayed
Control only works for devices in Generic or Skype for Business Base Profiles. Devices in Teams or Zoom Base Profile cannot be controlled, but can be viewed.
Version History
Version 1.1.0.5
Resolved an issue with Trios running version 7.2 or later whereby they would not load
Version 1.1
Fixed a CSRF security issue when updating to UCS version 7.x with Visual+ units.